Ready, Set, Celebrate!!!!
As the month of September draws to a close, we are eagerly awaiting news of the birth of our third grandchild. He is keeping us in suspense and making the distance between us and our daughter's family seem even greater than usual (they live in Barcelona Spain). News of his safe arrival will indeed be cause to celebrate!
It seems that this is a year of celebrations of all sorts. Another delivery we are eagerly awaiting as September turns to October is the new WBBA (Wisconsin Bed and Breakfast Association) Cookbook which features Port Washington Inn on the cover. Several of our favorite recipes are in this cookbook, and we look forward to trying those of other innkeepers, too. There will be many recipes innkeepers serve to their bed and breakfast guests but some family favorites as well. We'll have a supply of these cookbooks at the inn as of early October.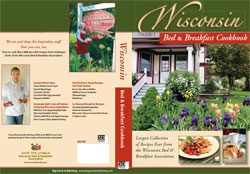 Autumn has arrived and that is certainly cause for celebration in a year of record breaking summer heat and drought here in the midwest. The cooler temperatures of autumn have never been more appreciated! Leaf colors are glorious in our area and we know only too well that autumn's magical color display is fleeting and we must take advantage of it!
Our Stay Longer Special continues to encourage three night stays (or longer) and is a win-win for our guests and for us, too. Our guests benefit from the savings and the lengthier stay the savings afford them; we benefit by getting to know our guests better as we visit over three or more breakfasts.
Biking in the heat of the summer wasn't so great, but biking now in the autumn is fabulous and a great way to enjoy the colorful leaves. Bring your bikes with you or rent bikes from ZuZu Pedals downtown Port Washington.
Need gear? It's here now at Duluth Trading Company which just opened their Port Washington store earlier this month. If you haven't checked out our downtown recently, you are in for a treat as there are increasingly good options on offer in Port Washington. How many of you have visited Baltica Tea Room and Gift Shoppe? Pear and Simple? Victor's Pier Street Shanty? Wardrobe Safari-Zing? The Chocolate Chisel? Dockside Deli? Okay……a few of these places have been here for awhile, because they make a lot of people happy!
So, carve out an autumn getaway, make your reservations at Port Washington Inn, do a little holiday shopping while taking in the magic of autumn along Lake Michigan where autumn is extended by the warmth of the lake. Savor the savings and the good memories…..of time spent together, of delectable food shared with each other, of peaceful privacy and generous hospitality. It's downright magical!
Tags: autumn leaf color, Eco Elegant Inn, eco-friendly lodging, environmentally friendly lodging, fall foliage, Great Lakes, Greater Milwaukee B&B, Greater Milwaukee Bed and Breakfast, Green Travel, lake michigan, Lake Michigan Magic, Port Washington, Port Washington Inn, Port Washington Wisconsin, Port Washington's Harbor, travel green wisconsin, Wisconsin B&B, Wisconsin Bed and Breakfast
Outdoor Activities
,
Port Washington Inn History & News
,
Uncategorized